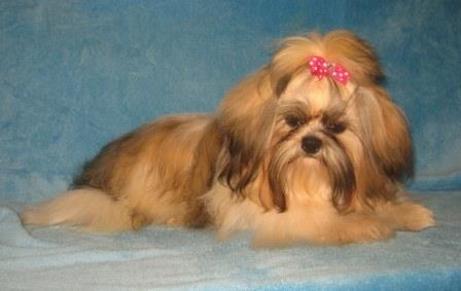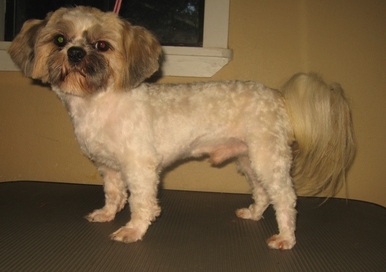 HERE BULLET IS SPORTING OFF A
​
SUMMER HAIRCUT. HERE IS A CLASSIC EXAMPLE OF WHAT A BRINDLE COLORED PUPPY WILL LOOK LIKE WHEN YOU KEEP THEM IN A SHORT HAIRCUT
VS
ALLOWING THEIR COAT TO REMAIN LONG. THE UNDERCOAT OF A SHIH TZU IS USUALLY ALWAYS LIGHTER AND WHEN YOU CUT THEIR COAT SHORT. IT MAKES THEM MUCH LIGHTER IN COLOR.
HE STILL RETAINS HIS COLOR IN HIS FACE AND TAIL. BUT, NOT THROUGHOUT THE
BODY.
AKA "BULLET"
9 3/4 LBS
CARRIER OF :
BRINDLE, GOLD, RED & BLACK ALL MIXED WITH WHITE OR CAN BE SOLID
ALSO WILL THROW BLACK MASKS ON FACES
​
​HIS PARENTS ARE ​BANDIT & ROSE
​
.